Originally published at InfiniteComix.com
As the 2015-2016 television season is about to get underway, there is perhaps no better time to be a comic book fan. This season will feature over a dozen different shows spread across seven networks. There is quite a disparity between the number of comic readers and the number of people that will be tuning in each week. However, there are bound to be some curious viewers willing to dip their toes into their favorite character's print canon. With that in mind, we at Infinite Comix have compiled a list of recommended reading and jumping-on points for new readers based on elements seen in each respective show. So get ready, it's time for our 2015-2016 season primer!
NEW SHOWS
Supergirl (CBS)
America's most watched network is finally dipping its toes in the superhero pool. Produced by Greg Berlanti (who has an comic book empire on The CW), Supergirl follows the adventures of Kara Zor-El as she attempts to juggle her life working at CatCo – a media conglomerate run by former Daily Planet staffer Cat Grant – and as the world's latest superhero. Despite the seemingly universal appeal of most comic book adaptations, Supergirl takes aim specifically at female viewers. From my own personal experience, women of various ages and backgrounds are looking forward to this show hitting  the air. Having a show that young women can watch and be inspired by is something the geek community desperately needs.
Recommended Reading: Supergirl Vol.1 – Last Daughter of Krypton 
The first volume of 2011's Supergirl comic by Mike Johnson, Michael Green, and Mahmud Asrar tells the story of Kara crash landing on Earth and trying to figure out what happened to bring her there. Conflict ensues when she comes across another Kryptonian bearing the crest of the House of El. This is a great entry point for those looking for a modern and easily accessible depiction of Supergirl.
Lucifer (FOX)
FOX may still have a bit of an image problem in the eyes of genre fans (we'll never forgive them for Firefly) but they continue to try new and exciting projects. Case in point: the upcoming show based on the Vertigo series Lucifer. Although the show shares the name with the comic series, it appears that is all it will have in common from a structural standpoint. Based on what has been revealed thus far, the show follows Lucifer Morningstar, who has given up his throne in Hell out of boredom to be a consultant for the LAPD and run his own nightclub. Basically, the show follows the tried and true procedural formula while adding a supernatural twist. Like the CW show iZombie, the departure from the source material may be a blessing in disguise.
Recommended Reading: Lucifer: Book One
While the comics have few elements that can truly prep readers for the show, this first volume collects the first 13 issues of Lucifer's  solo series as well as a 3-issue miniseries that spun out of the celebrated comic Sandman. Though the stories are different, both the comic and show seem to play up Lucifer's charming personality and fascination with the concept of "free will."
Fear the Walking Dead (AMC)
Spinning out of the hit AMC series, Fear the Walking Dead follows a new set of characters in a different setting at a different point of time. In essence, while existing within the same universe, it will have nothing to do with The Walking Dead. Described as a more character-focused, the show will initially aim to fill in the gaps from the moment Rick went into and awoke from his coma, albeit on the West Coast (The Walking Dead takes place on the East Coast in the rural South). Based on early reactions out of Comic-Con International, it looks to be another success for AMC.
Recommended Reading: The Walking Dead Vol.1: Days Gone Bye
There isn't a comic analogue for Fear the Walking Dead, as it's a wholly original concept. If you haven't been watching the original show and are wondering what all the fuss is about, check out the first volume in the comic series. That's what most people do, hence this book's perpetual placement on best sellers' lists. Yes, this answer is a total cop-out, but what did you really expect for this show?
Marvel's Jessica Jones (Netflix)
Former superhero turned private investigator. That's what the latest Netflix series by Marvel Studios promises. While many [valid] complaints about female representation in Marvel's big-screen properties, Jessica Jones marks the third television show in as many attempts to have a woman in the lead or as a prominent member of an ensemble. Krysten Ritter stars as the titular heroine, looking to build upon the gritty world established in the first season of Daredevil.
Recommended Reading: Alias Omnibus
The Alias Omnibus collects the stories written by Marvel mastermind Brian Michael Bendis. His work on Jessica Jones during this run under Marvel's MAX imprint is arguably a definitive take on the character. The first volume sets up her world and the book's overall premise, while the second volume sees Jones take on characters including the Purple Man, who will be portrayed in the show by Doctor Who's David Tennant. The price tag may scare some away, but don't be discouraged. It's more than worth the money.
DC's Legends of Tomorrow (The CW)
Of the many new projects slated to premiere during the 2015-2016 season, this might be the most peculiar. The other shows listed above can be described in one succinct sentence. Supergirl is a show about Supergirl, the cousin of Superman. Fear the Walking Dead is a spin-off that follows a different group of survivors. Jessica Jones is about a former superhero turned private investigator. Legends of Tomorrow is about… a group of characters, some good and some bad, thrown together for a time-travel mission to stop an immortal warlord. Despite the clunky premise, the show does have potential to give viewers a wholly different experience that the other offerings on television.
Recommended Reading: Time Masters: Vanishing Point and DC Universe Presents Vol.2: Vandal Savage
Finding a single book to give readers might prove to be a challenge for readers. Truth be told, if readers want to know more about Ray Palmer, they might want to hunt down some Atom comics. Hawkgirl fans may want to look at Geoff Johns' Hawkman run, while fans of Captain Cold and Heatwave should be directed towards Flash comics. However, the two characters that fans will likely have the least bit of familiarity with are Rip Hunter and Vandal Savage. Time Masters: Vanishing Point might not be the strongest book in DC's vast canon, but it is one of the few that gives readers a good, hard look at who Rip Hunter is. DC Universe Presents is certainly a stronger read thanks to James Robinson's exploration of the relationship between Vandal and his daughter, the fan-favorite Scandal Savage.
RETURNING SHOWS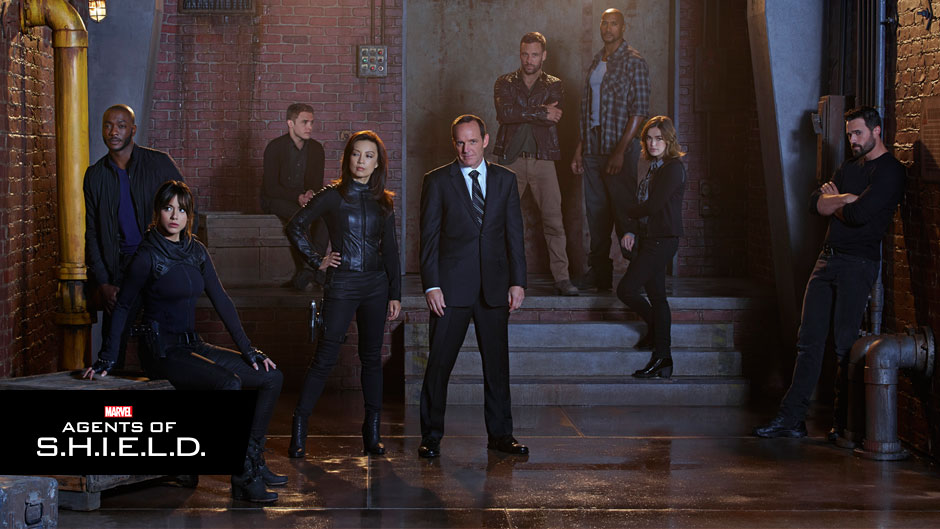 Marvel's Agents of SHIELD (ABC)
Agents of SHIELD is a peculiar inclusion to the greater Marvel Cinematic Universe. On one hand, it continues the adventures of Agent (director?) Phil Coulson after his apparent demise in the first Avengers film. On the other, filmmakers have explicitly stated that none of the show's events will actually impact Marvel's blockbuster films. One thing is for certain: since Captain America: Civil War, this show has been damn good. Introducing the Inhumans, Mockingbird (Adrianne Palicki), and revealing Skye to be none other than Quake, Agents of SHIELD looks to be an even bigger player in prime time this fall.
Recommended Reading: SHIELD Vol.1: Perfect Bullets
Comic's legend Mark Waid has made a career of telling personal, character-driven stories with larger-than-life characters. But what happens when he has to deal with the "side characters" of the Marvel Universe? It turns out, he delivers gold there too. Waid's SHIELD has managed to incorporate the larger-than-life spectacle many feel the show is lacking while nailing the characterizations that have been endearing to audiences.
Marvel's Agent Carter (ABC)
The first, 8-episode season of Marvel's Agent Carter was one of last year's pleasant surprises on television. Though Marvel has had a great track record on the big screen, their small screen execution has yielded mixed reactions from fans. Furthermore, the scrutiny received for their under-utilization of female characters caused fans to approach Agent Carter with trepidation. Thankfully, viewer's faith in the show was rewarded with a taut narrative exploring the early days of the Marvel Cinematic Universe.
Recommended Reading: Operation S.I.N.
Though it appears to tie into Marvel's event comic Original Sin, this five-issue miniseries by Kathryn Immonen and Rich Ellis is a great jumping on point for fans of Haley Atwell's character. Not only do readers get to see more of Peggy in action, but they also get the banter between her and Howard Stark that was made so enjoyable on the show. If that isn't reason enough to check it out, Haley Atwell's Peggy Carter emblazoned on the cover
Daredevil (Netflix)
The [not-so-surprise] hit show of 2015 is coming back much sooner than expected. After a critically acclaimed and commercially successful first season, Marvel and Netflix's decision to pump out a season 2 this quickly was not terribly unexpected. What is [not really] unexpected how much the show looks to incorporate from the comics in Season 2. With the "Avocados at Law" being joined by Jonathan Bernthal's Punisher and Elodie Yung's Elektra Natchios – as well as whatever other characters the showrunners have cooked up – Daredevil looks primed and ready to take a big step forward.
Recommended Reading: Daredevil by Frank Miller & Klaus Janson Vol.2
If you're going to read any of Frank Miller's acclaimed run, this volume might be the one to pick up. Sure, Born Again gets all the praise, but the second volume of Marvel's reprint collection delivers the iconic Elektra saga, as well as the Man Without Fear's clash with the Punisher. This is Miller at his absolute best. Instead of the writer he has devolved into, these Daredevil stories contain the quality storytelling – and heart – that has become synonymous with the title.
Gotham (FOX)
Like Agents of SHIELD, FOX's Gotham is another polarizing project on the television landscape. Despite cries of disapproval from the deepest depths of fandom, the comic-inspired procedural was one of the 2014-2015 season's unequivocal successes, and served as further evidence of the Batman franchise's strength. Thanks to some less than warmly received portrayals by the show's heroes, Gotham looks to spend its second year putting an even greater spotlight on the city's iconic villains. Though critics may wonder how long this show can survive before requiring a "Bat-bump", remember that Smallville ran for 10 seasons without Tom Welling donning a Superman costume.
Recommended Reading: Gotham Central Book 2: Jokers and Madmen
Gotham Central is a series so good that everyone should read it from start to finish (four books in total). However, with the showrunners and marketing materials pointing to a greater villain focus in Gotham's sophomore season, the second volume of Gotham Central is what people ought to check out. The book's continued focus on nearly all aspects of the city except for Batman, as well as one of the best Joker stories ever written, will appeal to longtime and new readers alike.
The Walking Dead
Few shows on television qualify as "events." Whether or not you agree with the general consensus, The Walking Dead has become a weekly "event". You're either talking about it at work on Monday morning, or listening to everyone else talk about it. If you haven't been watching, you might want to start binge-watching on Netflix right now. If you're still watching, you're likely in it for the long haul. If you're a comic fan, you're just wondering when the hell is Rick going to lose his hand.
Recommended Reading: The Walking Dead: All Out War (Vol. 20 and 21)
There is not much that has been done on the television show that hasn't occurred in some shape or fashion in the long-running comic series. One thing that the show hasn't done is something to the scope of "All Out War". Spanning two volumes, Rick forms an army to take down series' antagonist Negan. Unsurprisingly, it does not go well.
iZombie (The CW)
Perhaps the least anticipated of last year's new shows, iZombie proved to be a surprise hit for The CW. Run by Veronica Mars' Rob Thomas (not that Rob Thomas), the show deviated heavily from the Mike Allred / Chris Roberson comic of same name to deliver an abbreviated season filled with laughs and thrills. Rose McIver's Olivia "Liv" Moore proved to be a heroine audiences could fall in love with and root for, while a strong supporting cast lead by Blane (David Anders) and Ravi (Rahul Kohli), iZombie's freshman season laid the groundwork for a strong follow up in Season 2.
Recommended Reading: iZombie Volume 2: uVampire
It's pretty clear at this point that the show will be nothing like the comic series except for the name and the existence of zombies. However, that does not mean that the book should be skipped, as it is one of the finest pieces of modern zombie media. If you didn't happen to check out the first volume of iZombie, go pick it up now. For the rest of us, it's time to move on to the second volume of the series. If by some chance vampires are introduced in Season 2, we'll be somewhat prepared.
Arrow (The CW)
After an outstanding Season 2, the third season of Arrow started off promising, only to be crushed under the weight of a drawn out story line and pandering to fans of the Oliver/Felicity relationship. As a result, fan response was lukewarm at best. Taking a cue from its sister series, Arrow's next season looks to finally embrace its comic book roots. Series star Stephen Amell has teased fans with a new alias ("the Green Arrow"), a renamed city ("Star City"), and lighter characterization that infuses a little bit of fun to the character. Combine that newcomers Mister Terrific and John Constantine, and Arrow looks poised to return to its previous highs.
Recommended Reading: Green Arrow: Quiver
An all-to-brief run by Kevin Smith (yes, the guy behind Clerks, Mallrats, and a movie where a guy is turned into a walrus) and Phil Hester returned Oliver Queen from the dead, and also restored the snark and wit that has enamored readers with the character. Though the previous run by Mike Grell is very good, it is also a very grim, very unheroic take on Green Arrow. Smith and Hester's more lighthearted take, which incorporated elements of mysticism, is often cited by fans as a definitive Green Arrow story.
The Flash (The CW)
Most of the shows currently on the air have, for the most part, been afraid to fully embrace their comic book roots. And then there's The CW's The Flash. In it's first season, viewers saw Barry Allen get his powers via the potent combination of a lightning strike and a chemical bath. They also were given a bevvy of Rogues, including Captain Cold (complete with parka and cold gun), Heatwave, and Weather Wizard. Gorilla Grodd made an appearance and looked fantastic. The season long mystery gave viewers a faithful (and captivating) depiction of Eobard Thawne, as well as freaking time-travel. It seemed like Season 2 would have little more to add, until one word was uttered by showrunners: Multiverse. Throw in a couple more speedsters in the forms of Jay Garrick and Wally West to an already great STAR Labs dynamic, and there looks to be nothing slowing down The Flash.
Recommended Reading: The Flash of Two Worlds (The Flash #123)
If there is one story that is required reading for any fan Flash fan, it is this classic tale from 1961. Not only is it iconic in imagery, this is one of the most important stories in the history of comic books. It is the comic that birthed the DC Comics Multiverse, the idea of multiple realities that has been a storytelling corner for the publisher ever since. The story itself is fairly straightforward: Barry Allen finds himself on another Earth and teams up with Jay Garrick – who's comic book adventures he read as a child – to take down three classic villains. Readers may not want to shell out $300 for an original copy, but they owe it to themselves to seek it out either a digital copy or in one of its various trade formats.